Elegance that's more than skin deep
The state-of-the-art technologies that go into each Vision 444 goes a lot deeper than their stately, head-turning, modern styling. Extensive research and testing combined with the latest composite engineering makes the Vision 444 catamarans as safe, modern, mobile, technologically advanced and as cutting edge as you can get.
Whether you're choosing a Vision 444 for your own use, or whether you intend to use it for charters; you can rest assured that your catamaran will give you decades of carefree leisure and pleasure. The performance it delivers and level of creature comforts you'll experience exceed expectations and accepted standards. Leading by example and thinking out of the box allows us to be pioneers of our trade.
Our passion for quality, craftsmanship and commitment to delivering a product nothing short of superior is the driving force behind our success in achieving our customer's greatest satisfaction. We are sailors at heart and have built the Vision 444 to be enjoyed by like minded sailors.
Our relentless commitment to our product sets us apart from the rest. There is an unmistakable feeling of certainty one gets from owning a Vision 444.
Certainty that it will keep its good looks, sailing appeal and investment value for decades. And certainty that you made the right choice. The Vision 444 delivers assertive results in all categories – Performance, Safety, Styling and Ergonomics – making it one of the surest, most principled and intelligent choices in a modern catamaran.
And one that offers the highest levels of owner satisfaction.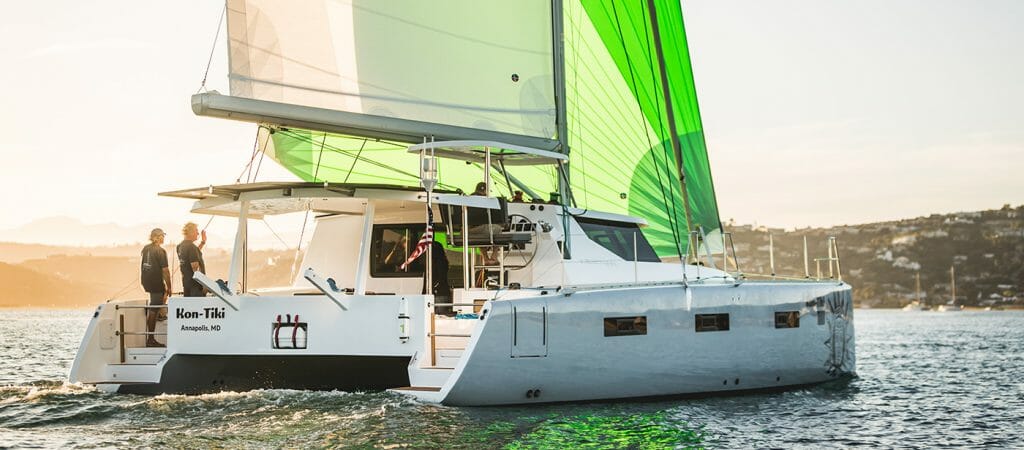 The Vision 444 has been built by sailors for sailors and there are key elements on the Vision 444 to be highlighted: All the decks are level and clear of ropes, giving you the confidence to move around safely. The mainsheet bridle system is easy and safe to use in conjunction with the self tacking jib. The balance between the main and jib sails are perfect. The rudders are calibrated to work in conjunction with sails meaning there is no stalling in tacks or general turning. The Vision 444 can get through a tack with hardly any speed loss. A unique access door system in the cockpit gunwale allows easy access from the dock to board the Vision 444, and it also makes it easy to replenish from a tender.
The Vision 444 has a dedicated locker system in the port and starboard hulls. Large, easily accessible storage allows you to open one door to access all your through-hull fittings and pumps, in one contained area. The engine rooms are easy to access. Lift up the lid (with the mattress) like a car bonnet and pull out the locking lever-stay to secure. There is a dedicated seat to sit on when working on the engine and dedicated tools in each engine room which makes servicing a pleasure.
The Vision 444 navigation station faces forward which is a great feature when making passage. Sitting in this area you get a clear view looking forward, so when you're filling in logs you can still keep an eye on the ocean. The unbelievably spacious cockpit has numerous large lockers that can store cockpit cushions, fishing rods and even short surfboards.
The diesel engines and the generator can easily be removed through the hatches and locker lids. This is a huge benefit if a problem occurs. Engines can be removed without disassembling the vessel.
To learn more about Vision yachts, or to find an Vision Yacht for sale, get in touch with one of our brokers.